The First Monday In May- Our top Met Gala picks
Every year we patiently wait for Vogue Magazine's Met Gala. They call it the Oscars of fashion, and it is for a few reasons. The main reason would be because it is ALL about the red carpet. But the true reason for the Gala is to raise money for Metropolitan Museum of Art's Costume Institute in New York City. Each year it honors a specific Designer who has changed the history of fashion and this year was the Legendary Rei Kawakubo of Comme des Garcons with the theme of Avant Garde.
Here are our faves (and not so faves) of the evening...enjoy the brain break!
(SORRY THE PHOTOS ARE NOT COMING OUT! The resolution isn't even for each of them!)
Since the theme was Avant Garde (see description above) we chose a stringent voting process...and by voting it was Mieke and I sending our favorites back and forth and of course they were exactly the same. Now there were some stunners...but wearing a gorgeous dress with a gorgeous body and face doesn't mean you will win if you weren't daring and forward thinking. Sorry Gisele and Candice Swanepoel... Here are our fashion forward favorites-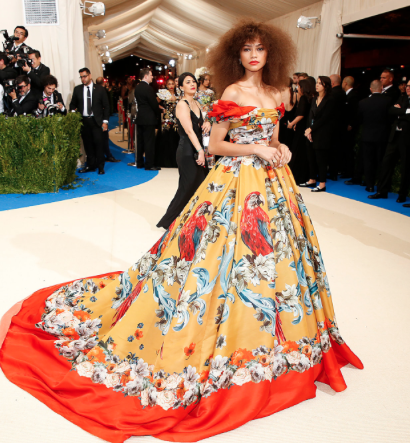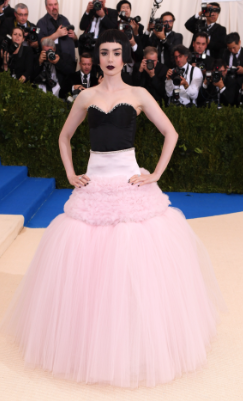 Zendaya in Dolce Gabanna- YES YES all of it
Lui Wen in Off White- Not sure why we love this so much but the denim ball skirt with the netting on top is gorgeous
Gigi Hadid in Tommy Hilfiger- For such a beachy type girl this look is beautifully avant garde with out being slutty or silly
Naomi Watts in Stella McCartney- This dress (ugh these blurry pics!) is stunning! Perfect amount of sexy, forward thinking and fashionable
Cara Delevigne in Chanel- A futuristic show stopper in a suit. That is not easy to do or pull off
Rihanna in Comme des Garcons- YES! The end. For the opposite of this see Katy Perry on how Avant Garde can go wrong
Michelle Monaghan in Paco Rabanne- We gasped when she came out. This is gorgeous, avant grade and beyond special
Lily Aldridge in Ralph Lauren Collection- It would be hard for her not to look good but the crispness of the white with the bold red boot and bright pink tulle face netting is stunning
Lily Collins in Giambattista Valli- ALL KINDS OF YES! Rob and Mariel you win! Congrats you guys on dressing the best of the night! This ladies and gentleman is Avant Garde done right!
Laura Osnes in Christian Siriano- Not the most daring of the night but gorgeous, different and lovely all at once
And for the not so great...
NO Katy...NO
OK now the theme was Avant Garde but there is also a way to take it so off it doesn't do the word justice. There is also a way to ignore it and just wear a Calvin Klein column dress (seriously Gwyneth??) Here are our not so favorites of the night
Madonna in Moschino- NO. Daring? Yes. Good? Nope
Gwyneth Paltrow in Calvin Klein- What? That cut, those shoes? You know better madame
Chrissy Teigen in Marchesa- Hmmm for such a funny, cute and sexy woman , this dress is confusing, frilly and not good
Kerry Washington in Michael Kors- She can pull anything off...anything except for this cyber raggedy anne dress.
Diane Krueger in Prada- DIANE! Where are you? You are our muse...our fashion crush! This is so bland and safe...next year?
Claire Daines in Monse- NO. Where is her BF to tell her this?
Who were your faves? Comment below! We did have a few more but one of our kids just walked into the room and I am going to go cuddle with her so, you know...#momlife (PS sorry again about the blurry pics!)
xoxo TWH